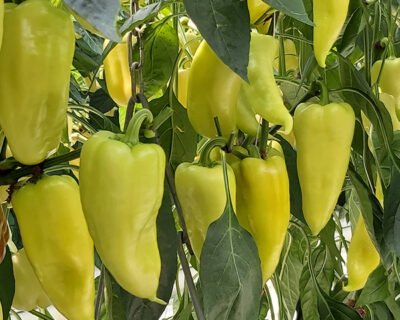 Champion of early
It is a very early variety, it binds reliably and well, it performs well on weaker soils, its fruits are bright and counter-resistant.
Equipped with excellent countertop durability
HR Tm2, IR TSWV
It can be planted all year round, its fruits have a thick flesh and are recommended for growing in heated and unheated foil.
Wide-shouldered giant
IR TSWV
Strong growing vigor. Weight of fruits can reach 200 grams. It is recommended to prune into two stems or besides cordon.
Peak yield with resistance
HR Tm2, IR TSWV
It grows sweet, tasty, very shouldered fruits, due to its strong roots it does not fall out in the open.
A really great tasting pepper
HR Tm0
Wide-shouldered, longest in its crop type, it grows well on all kinds of soil.
The regular lightgreen
HR Tm2, Bs-2
It can be planted in heated and unheated installments from February to the end of July. Its fruits are medium green, we also recommend it in open field under intensive conditions.
Tough guy
IR TSWV
The most broad-shouldered in its category, its fruits are often over 200 grams, pale green in color and slightly indented.
Nice and heavy
HR Tm2, Bs-2
Its uniform, regular fruits are bright, thick-walled and sharp-ended with short internodes.
Resistant beauty
HR Tm2, Bs-2
Its fruits are thick-fleshed, shouldered and medium-green in color. Recommended for cultivation in soil, pruned on a single strand or with cordon technology.
Strong plant, many fruits
IR TSWV
Its fruit is extra large, slightly indented, with a medieval variety with strong roots and stems.